Project
Four Pillars Laboratory
Materials Used
juniper blue concrete, Portuguese cork, Australian red cedar,
Cambia ash, copper
Location
Surry Hills, Sydney
Yasmine and her team killed it. They collaborated creatively. They added value with their big picture ideas and every close-up craft detail. They cut budgets when they had to and made the final results better because of it. At every stage of the project, from first concepts to final deliverable, the work just got better and better. And I have no greater praise for any creative partner than that.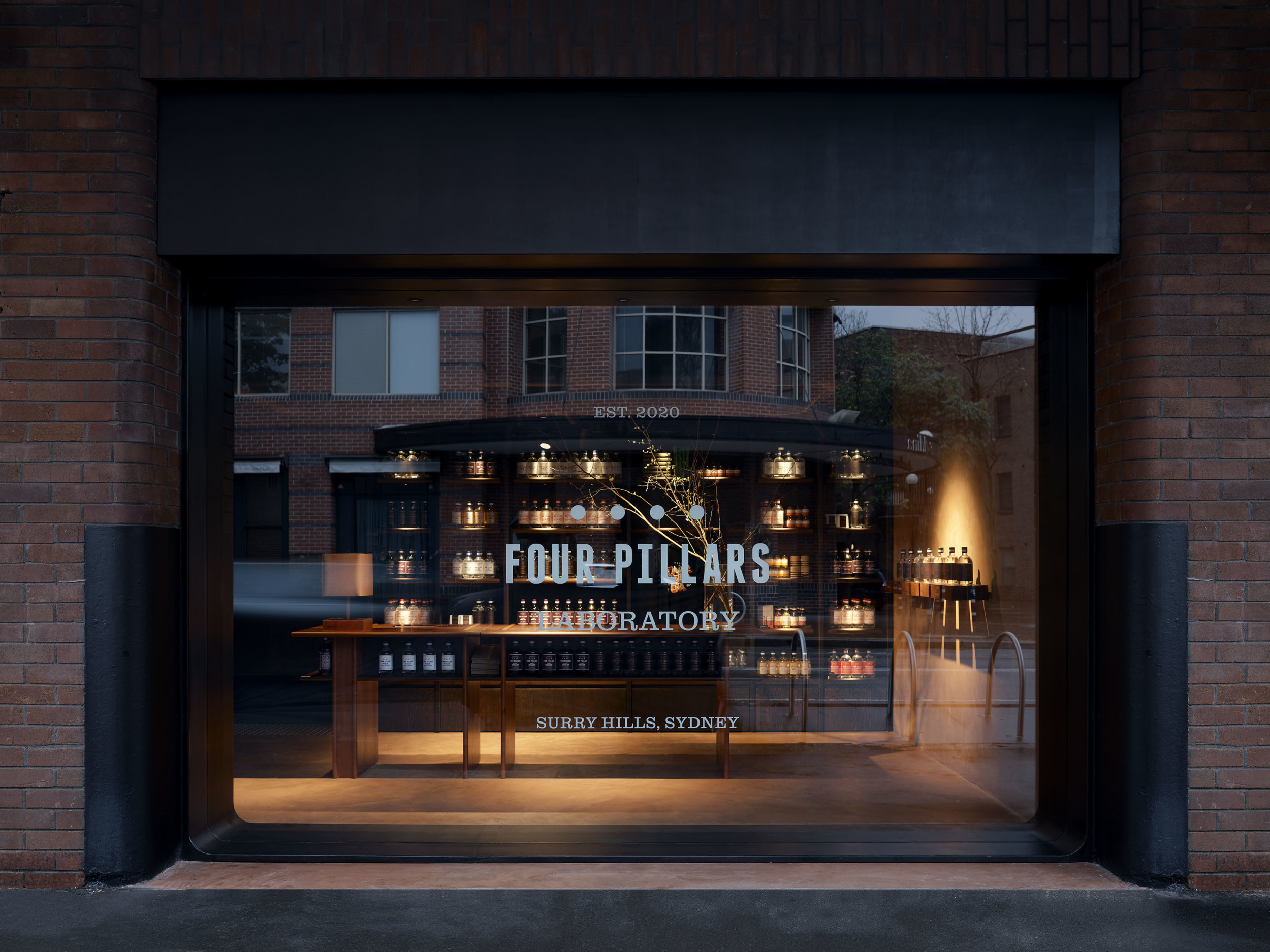 Four Pillars' inaugural retail offering anchors their multi-space Surry Hills venue with bars aloft. Presenting as a censorial environment to smell, see, taste and touch the award-winning distiller's products – from bottled ranges to gin-infused marmalade and chocolate – and associated merchandise, it permeates a solid and reassuring embrace of natural materials.
YSG
The overarching brief was not to replicate a gin distillery, but rather, create a thriving gin emporium devoid of pretence, bringing patrons closer to the distilled essence of the award-winning Australian Four Pillars' spirit.
YSG
A bar inspired by the colour of a ripe juniper berry? Sure, I was nervous about such a bold statement. Painstaking testing ensured the shade was just right. The spectacular centrepiece gives every drinker a front row seat at what we hope will become Sydney's leading gin destination. Eileen's is a symbol of the power of collaboration and the seamless communication between the design team, makers and us. The majority of the fabrication and entire installation period took place during COVID lockdown over emails and Zoom sessions.  As an Australian company, we're super proud all involved were local (the only exception of the bar's stainless-steel inserts designed using VR with an Oslo-based company).  The design team understood, embodied and built on the distilled essence of what we're all about: attention to detail, hospitality and (above all) an endless passion for sharing our craft.
Leah MacKenzie, Experience Director Four Pillars Gin
Awards
IDEA Interior Design Excellence Awards 2021
Winner – Hospitality
IDEA Interior Design Excellence Awards 2021
Highly Commended – Retail
IDEA Interior Design Excellence Awards 2021
Highly Commended – Colour
AIDA Australian Interior Design Awards
Highly Commended – Hospitality
AIDA Australian Interior Design Awards
Highly Commended – Retail
INDE Awards 2021
Shortlisted – The Social Space
INDE Awards 2021
Shortlisted – The Shopping Space
Eat Drink Design Awards 2020
Highly Commended – Best Retail Design
Eat Drink Design Awards 2020
Shortlisted – Best Bar Design
Photographer
Anson Smart