Materials Used
STAINED AND BLOWN GLASS, CORK, MERINO WOOL, HAND-TUFTED TIBETAN WOOL, GRASSCLOTH, RAFFIA, LINEN, TEAK, MAHOGANY, AMERICAN OAK, BRONZE, BRASS
With their deep appreciation for Japanese crafts and Art Nouveau combined with a love of reading plus music and dancing, we created a Frank Lloyd Wright meets experimental conservatorium haven for our clients where the vinyl collection spins on rotation whenever the piano lid's closed.
Working with a cold, white interior base scorched by intense sunlight, we layered the home with custom window treatments and warm notes of rich Mohave and ginger refreshed with sage, tamarillo and lavender to arouse the senses.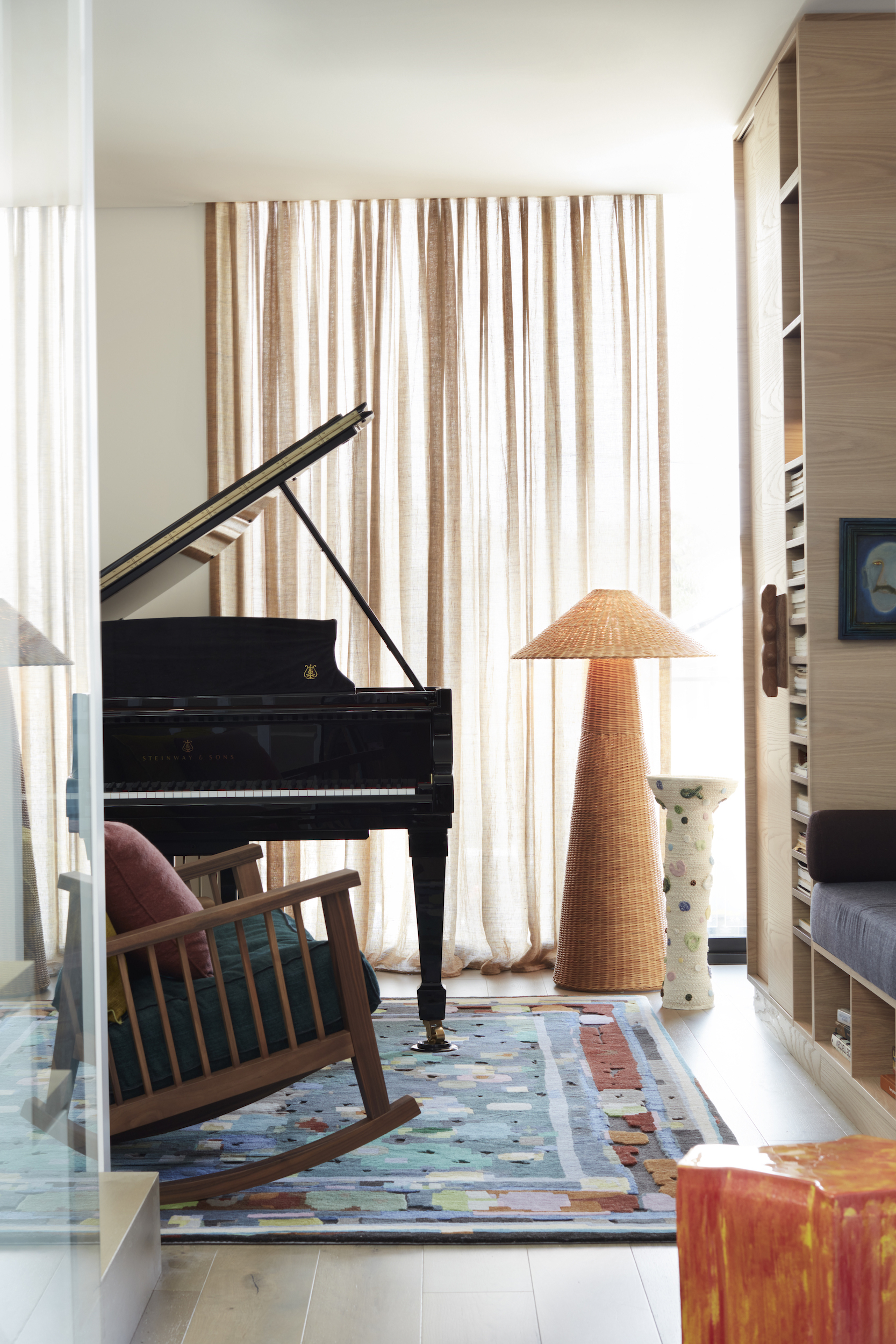 Artistic pieces include jewel-toned patterned rugs and a commissioned Nouveau-inspired stained glass window featuring gumtree branches with wattle amongst the leaves. Given the clients had moved to Sydney from America, they wanted a piece that represented their new Australian home. Vintage sconces float upon walls like musical notes, as do the kitchen joinery's brass and zinc handles, uplifting its existing joinery surfaces together with the tonal addition of a quaint feature curtain.
Custom YSG shelving and storage units line walls in several rooms. Studded with intricate drawer pulls plus tactile elements including cork faces and a shoji screen adorned with patterned wallpaper (concealing the television), they frame esoteric pieces that ignite the imagination.
"We designed a custom rug to compliment the couple's love of all things Art Nouveau without meandering down the garden path with overt floral flourishes. An angled sofa keeps the beat on the sharper side."
YSG
PHOTOGRAPHER
PRUE RUSCOE
STYLIST
YSG