YSG'S HIGHLY CUSTOMISED INTERIORS ARE CHARGED WITH A REBELLIOUS SPARK. STEEPED IN CRAFTSMANSHIP, MIXING VIBRANT RIFFS AND ATMOSPHERIC QUALITIES, THEY ARE HONED WITH AN ARTISANAL ENERGY THAT MUTUALLY CELEBRATES WHIMSY AND FUNCTIONALITY.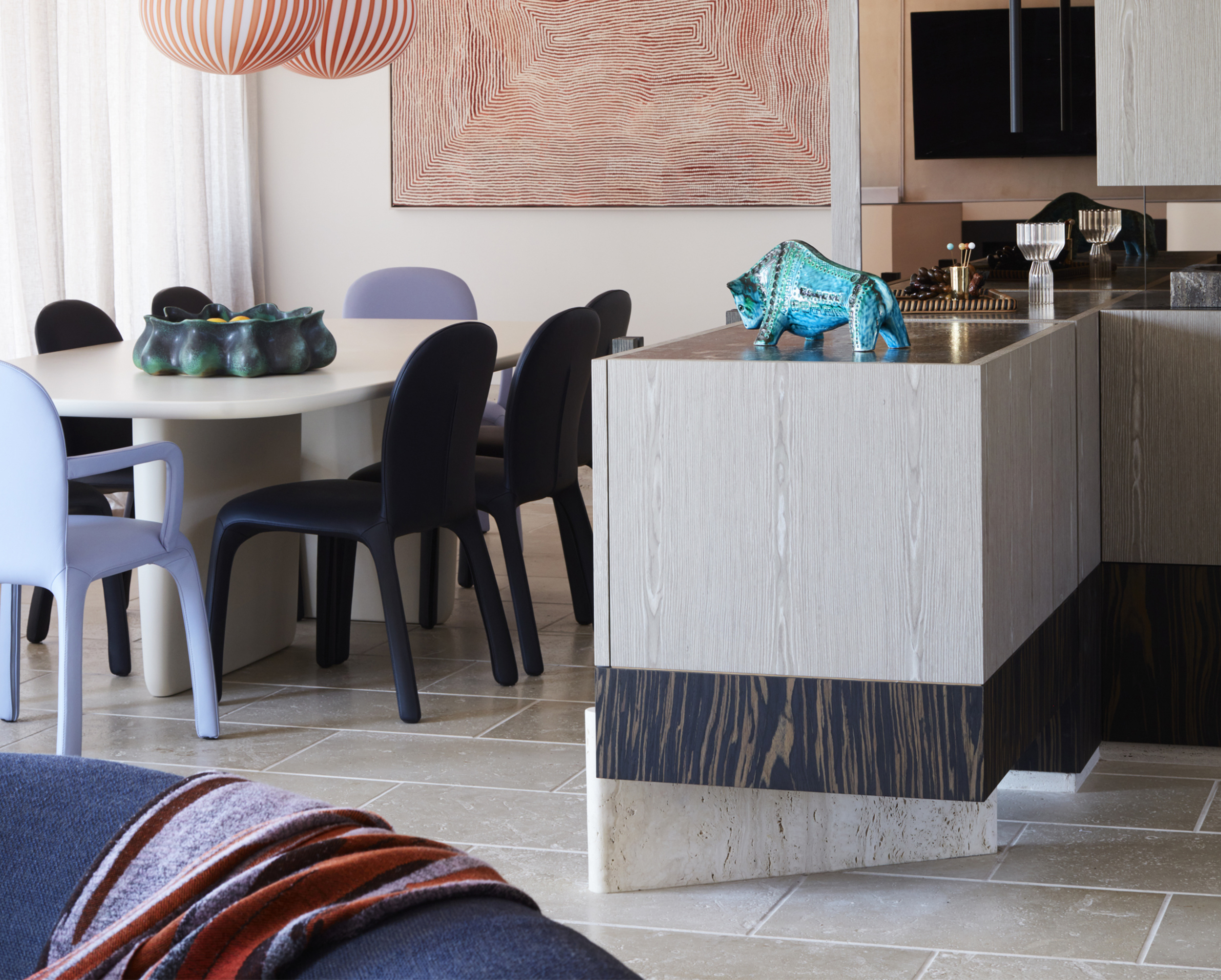 The studio's vision is informed by staging and storytelling. Our immersive approach to sculpting spaces for private residences plus the hospitality and commercial sectors is realised through the creation of abundant elements – from joinery to individual furnishing pieces – to craft truly inimitable solutions that cohesively connect all interior aspects. Daring palettes, organic shapes and unexpected textural pairings elicit experiential outcomes with lasting impact.
The provocative chords of Studio Principal Yasmine Saleh Ghoniem's imagination have garnered countless design accolades over her fifteen years' experience, including: Best Residential Design, Best Residential Decoration and Best of NSW state at the 2020 Australian Interior Design Awards; the Belle Coco Republic Interior Design Awards Emerging Design Star (winner, 2017) and the Editor's Medal at the prestigious Interior Design Excellence Awards (winner, 2017).
A lot is said about forecasting and fashion in our industry with the forerunners most noted for keeping their heads above the milieu and it is here that this fine young practice is taking shape and defining a style of it's own.
YASMINE GHONIEM
Principal
Lauded for her gutsy instinctual approach to design and adventurous palette-plays, Yasmine ironically almost missed her calling given her professional background abroad in dance and music. Despite completing interior design studies in America, she arrived in Australia wielding a diploma in one hand and a microphone in the other with a burning desire to pursue a career in music. Leaving ample live gig mileage behind her, in 2013 she co-founded the internationally recognised and award-winning Sydney-based studio, Amber Road, with her sister, landscape architect Katy Svalbe. Not surprisingly, staging and performance elements became key informants of her visionary MO. This underlying artistic thread continues to weave through all her hybrid residential and hospitality projects, characterised by the pique perfection of their visual rhythms and atmospheric potency. Countless design awards bear testament to her talent.
Not one to wrest on her laurels, 2020 marks the dawn of an exciting era for Yasmine. Her new solo endeavor, YSG (Yasmine Saleh Ghoniem), consolidates her finely tuned design strengths, enabling her to further explore diverse new project paths together with her illustrious team, most notably enabling her to forge her passion for custom furniture design. Expect the unexpected.
JAIME BLIGH
Associate
Jaime's inherent interest in design commenced from the age of eight, exhausting her local librarian with countless requests for loan stamps to be punched into the magazine sleeves of The World of Interiors. Years of avid flicking served her well, introducing Jaime to the illustrious work of international architects and designers, whilst inspiring her pursuit of a Bachelor of Interior Design Degree in New Zealand. Upon graduation, she worked at Designgroup Stapleton Elliott in New Zealand before embarking to Sydney to refine her skills at Alexander & Co. Working predominantly in the residential and hospitality sectors, she honed her interest in architectural detailing, with one of her noteworthy projects scooping up several prestigious awards.
As a fervent collector and curator, Jaime possesses a bowerbird-like talent for sourcing objects and furniture – both new and used – pairing them with existing pieces to create intriguing compositions. This passion coupled with her keen interest in bespoke interior design led Jaime to join Yasmine in July 2017. Attention to detail is integral to her process in delivering contextually sensitive spaces that explore form and proportion sympathetically.
Jaimi-Lee Wheelwright
Interior Designer
With qualifications spanning both graphic and interior design, Jaimi-Lee is a 3D wonder woman who translates ideas and preliminary designs into visual master plans and detailed models. Her credentials also enable YSG to offer additional creative concepts for hospitality projects – from logo and signage creations to wayfinding – ensuring that design intent and messaging are mutually engaged. Born and bred in NSW prior to landing at YSG, Jaimi-Lee's project scope encompassed a range of hospitality and residential ventures in Brisbane and further afield in Bangkok and Bali. Having mastered the 'B's,' her creative flight path is firmly set on moving through the alphabet, leaving her design footprint in one city at a time.
Felicity NG
Creative Producer
Felicity's seamlessly integrated career straddles a myriad of niche roles that include masterminding fashion and arts-related campaigns and events through to sale liaisons (predominantly with designers) within Australia's pre-eminent furniture boutique, Living Edge. At YSG, her keen sense of style, broad affiliations with artists and artisans combined with her inexhaustible knowledge of interior suppliers (which gazumps the blackest of black book directories) enables every project to be cloaked with sartorial panache – from joinery finishes to lighting and soft furnishing selections. Possessing a precise and refreshingly off-beat eye for visual compositions, Felicity also offers private interior styling services.
Laura Campbell
Interior Designer
Minted with countless scholarly awards including the University Medal whilst acing her Interior Architecture studies (with 1st Class Honours) at UNSW, Laura possesses a buoyant can-do attitude when it comes to crafting new spaces, relishing the problem solving aspect of design. As a lover or 'surprising beauty,' she seeks inspiration from unusual resources, in turn conceiving environments that activate sensory appeal, yet avoid the cliché of overcomplicating them in the process. Working for several years at Tom Mark Henry prior to joining YSG, Laura possesses significant experience across the retail, hospitality and residential sectors with projects ranging from workplace through to hotel design.