Materials Used
SUNSET ONYX, CALACATTA VIOLA , LAPIS BLUE GRANITE, ISERNIA STONE, AMERICAN WHITE ASH, TASMANIAN BLACKWOOD, GANACHE AND AUBERGINE-STAINED VENEER, COLOURED VENETIAN GLASS, PURPLE IRIS ZEILAGE
Location
Rushcutters Bay, Sydney
Befitting the freedoms of new empty nesters, an escapist fantasy floats within this penthouse overlooking Rushcutters Bay. The mood is revelatory and futuristic, with an upbeat dose of Pedro Almodóvar's cinematic eccentricity.
Contemporary Spanish tapas bars and their liberal use of tiling, Surrealism, and rich colour gradations evoking a material take on the Northern Lights were our inspiration. The overall scheme is literally conveyed like a colour wheel key to the home via the custom dining table. Its graphic wreath-like exposed mortise detailing (which flows down the legs) depicts the dominant shades of the home.
YSG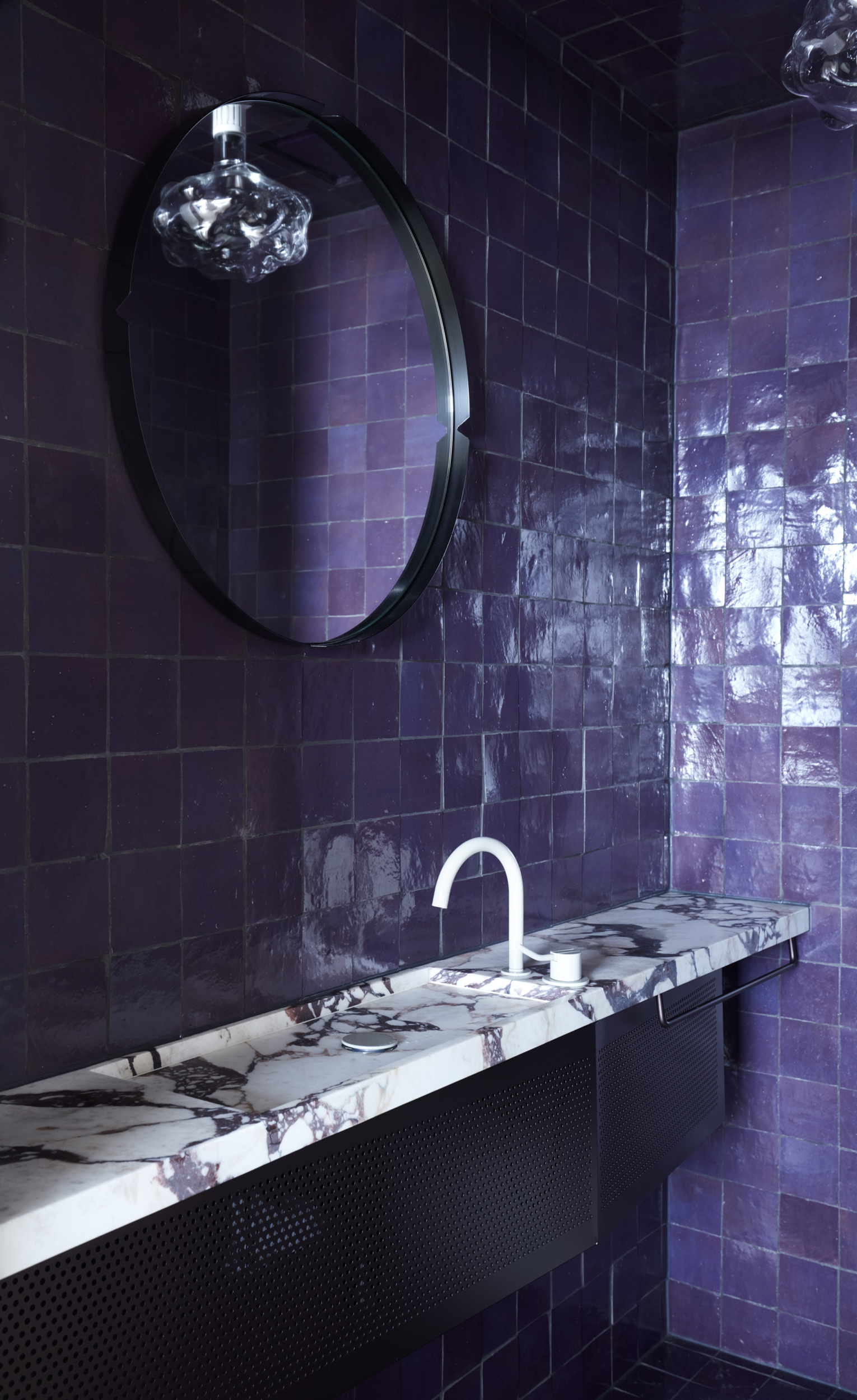 Light, crisp layers of marble articulate the vanities in the bathrooms, wrapping around shower walls with a futuristic 2001 Space Odyssey meets Mies van der Rohe's Barcelona Pavilion vibe.
YSG
Within the master bedroom, the upholstered bedhead with integrated side tables features stained zebra veneers crowned with Calacatta Viola marble. A solar system of blown glass lighting in berry shades orbits above. 
YSG
Photographer
Prue Ruscoe
Stylist
Felicity Ng